JOKAB SAFETY develops and sell innovative products and solutions for machine safety! Established in 1988 in Sweden, it has since grown to become Sweden's largest single supplier of Safety Relay and Safety Products. Jokab Safety's design principals:

· simple to install and use
· have high reliability
· are ergonomic


Jokab Safety innovation has allowed it to produced unique safety products such as the Vital Solution and Pluto Safety PLC. This is to compliment their comprehensive range of Safety Relay, Unique Safety Timers, Enabling Devices and Two Hand Control Switches.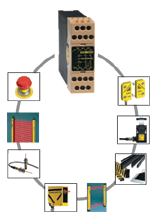 Vital - Vital is the heart of a new concept which makes it possible to install many different safety devices connected in the same safety circuit and still achieve category 4 according to EN 954-1.


·
Download Vital Handbook